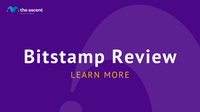 Bitstamp Review: Pros, Cons and More
Best benefits
Competitive trading fees
Bitstamp is one of the best cryptocurrency exchanges when it comes to trading fees. It has a simple fee structure, where your trading fee is based on your 30 day trading volume.
The highest trading fees on Bitstamp are only 0.50% for those with 30-day trading volume below $ 10,000. The fees drop a bit for users who trade higher amounts per month.
Easy to use
There isn't much of a learning curve to trading cryptos on Bitstamp. It offers a simple platform where you can quickly learn how to buy and sell cryptocurrencies. If you are new to crypto, Bitstamp is one of the more user-friendly exchanges.
Advanced platform available
In addition to its usual platform, Bitstamp also offers Tradeview, an active trading platform. This has more advanced charting features and trading forms.
One of the great things about Bitstamp is that the trading fees are the same whether you use its regular platform or Tradeview. Other major exchanges, such as Coinbase and Gemini, have lower trading fees on their advanced platforms. With Bitstamp there is no difference in cost, so it's just a matter of which platform you prefer.
Popular mobile application
A quality mobile app is a big plus, as it allows you to view your wallet and make transactions when you're away from your computer. The Bitstamp app provides full trading functionality and has positive reviews on the App Store and Google Play.
Solid selection of cryptocurrency
Bitstamp allows you to trade around 45 different cryptocurrencies. While this is nowhere near the maximum, this exchange has a good selection that includes many of the bigger coins as well as smaller cryptos. If you're looking for the best places to buy Bitcoin and a few other cryptos that catch your eye, Bitstamp should have what you need.
A long track record
You won't find a longer-lasting crypto exchange than Bitstamp. Launched in 2011, it was one of the first crypto exchanges and it has survived the competition to become the oldest exchange. This stability is a good selling point in a market where many exchanges either do not last or face serious regulatory issues.