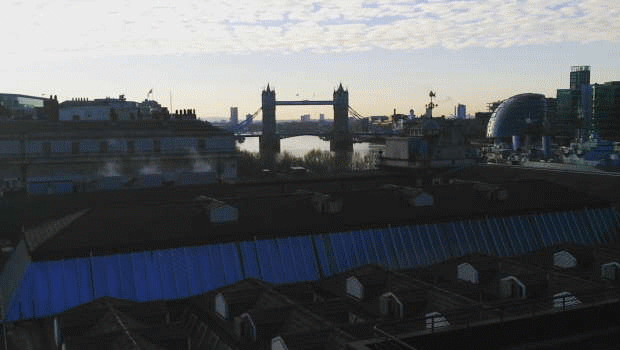 London close: Stocks fall amid Ukraine, global growth concerns
the FTSE100 ended the session down 0.2% at 7,601.28, and the FTSE250 was down 0.75% at 20,962.17.
The pound was also in the red, last trading 0.09% against the dollar at $1.3007, and weakening 0.17% against the euro to change hands. at €1.2055.
"European markets had a lackluster start to the week, hitting their lows for the day, despite the IMF following the World Bank yesterday in lowering its outlook for the global economy," said CMC Markets Michael Hewson, Chief Market Analyst.
"This morning's initial weakness has given way to a slightly more resilient tone as today's sharp drop in oil prices offset fears that the start of a new Russian offensive on the Donbass region could increase the pressure on the EU to consider a full embargo on Russian oil and gas.
In economic news, retail footfall rose ahead of Easter as consumers did much of their shopping ahead of the long weekend, retail experts said. Springboard.
Footfall was up 15% week-on-week in the Monday-Thursday period before the four-day break, with a 21.9% rise on Thursday and 27.3% in High Street from the United Kingdom.
However, attendance fell slightly by 0.1% over the weekend compared to the previous weekend on Friday, Saturday and Monday, while UK attendance at Easter remained 13% lower than 2019.
Footfall in UK retail destinations rose 5.8% on Good Friday compared to the previous week, with footfall in coastal towns up 33.6% and footfall in UK high streets rising 10% off on Good Friday.
In historic cities, footfall rose 15.8%, while central London rose 14.3% and major UK city centers saw a 14.5% increase on the first day of the long weekend -end.
"Two factors strongly influenced footfall activity in UK retail destinations at Easter this year – the first factor was warm sunny weather, and the second factor was that it was the first Easter bank holiday weekend since 2019 without Covid restrictions," said Diane Wehrle. , Springboard's insights director.
"The fact that this Easter is the first since 2019 without any restrictions was likely a factor in people going to retail destinations ahead of Easter, rather than the weekend itself.
"During the period from Monday to Thursday before Easter, footfall increased by 15% on average compared to the previous week, with an increase of 21.9% on Thursday and 27.3% on the main streets of the Kingdom -United."
Elsewhere, the International Monetary Fund cut its global gross domestic product growth forecast to 3.6% for 2022 and 2023 as commodity markets, trade and financial ties amplified the ills of war in Ukraine.
Previously the IMF forecast GDP growth of 4.4% and 3.8% for those two years, respectively.
According to IMFAccording to chief economist Pierre-Olivier Gourinchas, "the global economic outlook has been severely deteriorated, largely due to Russia's invasion of Ukraine".
Gourinchas also drew attention to the risk of "more permanent fragmentation" of the global economy into geopolitical blocs.
"Such a tectonic shift would lead to long-term efficiency losses, increase volatility and pose a major challenge to the rules-based framework that has governed international and economic relations for the past 75 years," he said. he adds.
Sentiment was shaken earlier in the session after Russian forces launched their long-awaited offensive in eastern Ukraine overnight, having massed troops and artillery there for the past two weeks. .
Investors also digested comments from St Louis Federal Reserve Chairman James Bullard, who on Monday repeated his plea for raising interest rates to 3.5% by the end of the month. year, saying domestic inflation was "far too high".
In equity news, gains in commodities stocks helped contain losses, boosted by rising metal prices amid hopes of more stimulus in China.
The oil majors BP and Shell remained in the green, respectively by 0.4% and 1.64%, after JP Morgan raised its price targets on company shares.
Spectrum was ahead 4.65% after the electrical engineering firm announced it would sell specialist sensor maker Omega Engineering to private equity firm Arcline Investment Management for $525 million and also launched a buyout of shares of £300 million.
Banks were in the green due to the continued rise in US bond yields, with NatWest Group up 0.64%, HSBC ahead of 0.61%, and Lloyds banking group manage gains of 0.84%.
On the downside, shares in the operator of travel food outlets SSP Group were down 6.34% after German Bank downgraded the company's shares from "hold" to "buy".
Low-cost airline focused on Eastern Europe Wizz Air fell 5.36% after Russia launched its offensive in eastern Ukraine.
JTC fell 12.08% even after posting higher pre-tax profit for the full year alongside a larger dividend and issued an optimistic note on the outlook.
market movers
FTSE 100 (UKX) 7,601.28 -0.20%
FTSE 250 (MCX) 20,962.17 -0.75%
techMARK (TASX) 4,408.23 -0.07%
FTSE 100 – Risers
Smith & Nephew (SN.) 1,234.00p 3.31%
Royal Mail (RMG) 338.50p 2.86%
Ferguson (FERG) 10,250.00p 2.30%
Rolls-Royce Holdings (RR.) 95.50p 2.22%
Smurfit Kappa Group (CDI) (SKG) 3,201.00p 2.01%
Glencore (GLEN) 535.60p 1.67%
Hull (SHEL) 2,228.00p 1.64%
Tesco (TSCO) 270.30p 1.50%
Entain (ENT) 1,575.00p 1.45%
Smiths Group (SMIN) 1,453.50p 1.36%
FTSE 100 – Slaughterhouses
Intermediate Capital Group (ICP) 1,614.50p -4.55%
ITV (ITV) 74.24p -3.61%
Information (INF) 597.40p -3.36%
JD Sports Fashion (JD.) 143.05p -3.02%
Rentokil Initial (RTO) 514.00p -2.80%
Intertek Group (ITRK) 4,943.00p -2.74%
Diageo (DGE) 3,867.50p -2.42%
London Stock Exchange Group (LSEG) 7,960.00p -2.33%
Croda International (CRDA) 7,418.00p -2.32%
Abdn (ABDN) 193.20p -2.25%
FTSE 250 – Risers
Dark Trace (DARK) 384.20p 5.29%
Spectrum (SXS) 2,640.00p 4.65%
Wood Group (John) (WG.) 192.45p 4.06%
Weir Group (WEIR) 1,575.00p 2.81%
Morgan Advanced Materials (MGAM) 299.00p 2.75%
QinetiQ Group (QQ.) 337.40p 2.74%
Discovery Group (DSCV) 826.00p 2.61%
Biffa (BIFF) 339.20p 2.42%
Harbor Energy (HBR) 530.00p 2.04%
TI Fluid Systems (TIFS) 165.40p 1.97%
FTSE 250 – Slaughterhouses
JTC (JTC) 713.00p -12.08%
SSP Group (SSPG) 229.10p -6.34%
Polymetal International (POLY) 240.00p -5.62%
Syncona Limited NPV (SYNC) 163.80p -5.54%
Ferrexpo (FXPO) 181.70p -5.51%
Wizz Air Holdings (WIZZ) 2,949.00p -5.36%
Financial foresight (PFG) 261.00p -5.09%
GTI (GTI) 257.00p -4.35%
CMC Markets (CMCX) 275.00p -4.35%
AJ Bell (AJB) 285.00p -3.72%