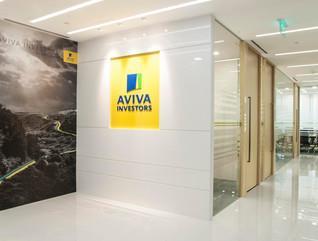 Personnel Change: Aviva Investors Appoints New Position Head of DLI and Liquidity | News
Aviva Investors – Rakesh Girdarlal has been appointed to the newly created position of Head of Liability Driven Investments (LDI) and Liquidity at Aviva Investorsfrom April 2022. He will report to Caroline Hedges, Head of Credit.
Formerly Head of LDI at Aviva Investors, Girdharlal will take on additional responsibility for the firm's liquidity activities following Hedges' promotion to Head of Credit in September 2021. He will retain his responsibilities for LDI Portfolios, where he manages funds. pension and insurance LDI mandates in excess of £20 billion.
Girdharlal joined Aviva Investors as Senior LDI Portfolio Manager in 2014, before taking on the role of Head of LDI in 2018. Previously, he was Director of Asset Liability Management (ALM) at Cardano, where he was responsible for LDI portfolio management and ALM for defined benefit (DB) pension plans.
---
APF – Sasja Beslikwho has been appointed sustainability manager at the Danish pension provider APF last fall, is to leave the company at the end of May for a new job in Japan. The ESG finance expert and top commentator will become Chief Investment Officer of a new group of investment funds managed by Japan SDG impactcalled NextGen ESG Strategy, and he will be traveling to Japan for work.
Beslik, who is changing jobs after less than a year, told IPE: "What drives me to take this great opportunity is that I have been an ESG pioneer for over 20 years, and the Japan is a big market but doesn't have a lot of ESG products – and the ESG funds currently available really don't deliver the results clients expect.
Beslik said he had a great time at PFA, learning a lot about the pension side of ESG, and worked on the company's climate engagement as well as launching its retirement option focused on the climate, PFA Climate Plus (PFA Klima Plus).
A PFA spokesperson said the company had "an ambitious ESG approach and a strong team to continue to lead the development of sustainable retirement solutions for the Danish market".
"We thank Sasja Beslik for her contribution to accelerating this work even further and wish her well in her next adventure," the spokesperson said. He didn't say whether PFA were trying to find a replacement for Beslik.
---
Pensionskasse Deutscher Eisenbahnen und Straßenbahnen – The occupational pension provider for employees in the transport and utility sectors in Germany is looking to hire an investment management specialist. The specialist would have a degree in economics or business informatics or a commercial background, for example a banking apprenticeship with appropriate further training, and would have professional experience in risk management and/or investment management in capital, preferably in the areas of Pensionskassen, Versorgungswerke, insurance companies or banks.
The new employee will be responsible for obtaining direct investment offers, verifying ratings, preparing documents for board level decisions, preparing reports, valuations and review of reports by external specialists and asset managers, to participate in projects with external specialists, for example for Asset and Liability Modeling (ALM) studies, and the assumption of responsibilities to optimize the fund capital management and the new financial accounting program.
The Pensionskasse has been pursuing a conservative investment strategy for decades. It invests primarily in direct investments, in addition to stocks and real estate. It plans to further develop and optimize its investment strategy with investments in new asset classes, for example infrastructure, in order to further diversify its portfolio.
---
Buckwheat & Partners – The global investment manager has announced changes to its investment leadership. Guy Monsonwho enjoyed a long tenure as chief investment officer, will now become chief market strategist, with jerry thomas and Phil Collins promoted to CIO for global and multi-asset equities, respectively.
This will allow Monson to remain the firm's senior partner and a key member of the Investment Policy Committee and Investment Strategy Group, while placing greater emphasis on client interaction and communication. from Buckwheat & Partnerspositioning and strategy. He will also continue to lead the company's target return franchise, focusing on asset allocation, managing risk exposures and volatility.
Thomas and Collins are long-time partners on the firm's asset management team, with Thomas previously serving as head of global equities, while Collins was head of multi-asset. In their roles as CIO, they will oversee all portfolios of their respective franchises.
The duo are committed to growing Sarasin & Partners' expanding investment team, which now includes Nikki Martin as co-manager of the Sarasin Global Dividend fund, which brings more than two decades of experience to the team. investment experience. Thomas and Collins will continue to report to Executive Committee member Subitha Subramaniam, in her role as Head of Asset Management.
These changes follow another strong year for Sarasin & Partners, which saw a 22% increase in assets under management and administration in 2021.
---
Lombard Odier Investment Managers (LOIM) – The asset manager created the new role of Chief Carbon and Environmental Markets Strategist, appointing Ruben Lubowski at office.
LOIM described Lubowski as a leading economics and policy expert on carbon markets and a pioneer of financial approaches to conservation and other natural climate solutions. He has held leadership and advisory positions with environmental organizations and investors, including as Chief Natural Resources Economist and Associate Vice President for Climate and Forests at Environmental Defense Fund At New York.
He also co-founded and is special advisor to the Emergent Forest Finance Accelerator, which manages and provides the platform for the LEAF Coalition, a public-private initiative that raised $1 billion to protect rainforests last year. . He has advised governments and stakeholders around the world on the design of carbon markets and testified before the US Senate on the role of forestry and agricultural offsets. He is also an adjunct professor at Columbia University, specializing in carbon pricing and the economic analysis of environmental policies.
Additionally, Lubowski is a co-author of the World Bank-ICAP Handbook on Designing Emissions Trading Systems, widely used by policymakers and stakeholders around the world. He has authored over 70 journal publications, research articles and books and has won various environmental awards and grants.
At LOIM, Lubowski will use his experience to further develop LOIM's product line in the area of ​​carbon and nature-based solutions. LOIM plans to launch its first global carbon-focused strategy for private markets in the coming months.
---
Zürich – The Swiss insurer has appointed Marcus Bonn as Chief Risk Officer in Germany, effective October 1, and subject to approval by financial supervisor BaFin.
Bonn leaves the insurer ERGOwhere he is currently responsible for property insurance risk management and international risk reporting and strategy and is deputy chief risk officer.
In Zurich, Bonn succeeds Denny Tesch, who left the company on March 31. He will be a member of the Zurich Group Germany Executive Committee and will report to Chief Executive Officer Carsten Schildknecht and Katja Pluto, Head of Risk EMEA.
---
Ninety-one – Daisy Streatfield was named as Ninety-onedirector of sustainable development. She will be responsible for implementing the company's net zero commitments across all of its portfolios.
She will also work closely with the investment teams in the development of sustainable products, as well as with clients to inform them of the company's approach to sustainable investment and help them develop their approach.
Streatfeild joined Ninety One from the Institutional Investors Group on Climate Change (IIGCC), where she served as program director. In this role, she helped establish the Paris Aligned Investment Initiative and inspired more than 140 IIGCC members to commit to net zero portfolio emissions. Previously, she was Advisor – Sustainable Infrastructure, with the Inter-American Development Bank Group, after more than 10 years in various climate and finance-focused roles in the UK Civil Service.
---
Casey Bizarre – Thorsten Heymanformerly Head of Global Strategy at Allianz, joined the asset management strategy consultant, a Deloitte business, as a senior adviser in Europe. He will advise Casey Quirk clients around the world on mergers and acquisitions, European market entry, digital distribution and other strategic and operational matters.
Heymann has spent most of his career so far at Allianz. Most recently, he was responsible for global strategy there until 2020.
---
Reframe capital – Supplier of alternative investment products and capital raising solutions announced the launch of a new investment capability with the appointment of Ray Maxwellthrough its consulting activity, Limited privacyas a consulting partner.
He said Maxwell's extensive experience in private equity would serve to meet the growing demand from asset owners to research and evaluate individual private equity transactions and other co-investment deals on private markets.
His investment career began in Post Office Pension Fund, where he created and led the alternative investments division in the early 1980s. In 1997, he joined Invesco (through the acquisition of LGT Asset Management) and was responsible for their non-US private equity investments. In 2006 he left to found Priv-ity Limited which enabled him to provide investment advice to a wide range of clients. Since then, he has acted as a special adviser to BTG (British Technology Group), was appointed chairman of 2 Venture Capital Trusts and was an industry specialist at Allenbridge.
The latest digital edition of IPE magazine is now available